Authors: Henk Oostindie, Bettina B.Bock, Wageningen University
The Wageningen University, our partner in the GRANULAR project, just published a report on the multi-spatial understandings of rural diversity and rural policy notions. The document presents a theoretical framework for GRANULAR, focusing on how to take account of contemporary rural differentiation trends when developing indicators for rural diversity
GRANULAR moves away from the rural-urban dichotomy
Henk Oostindie and Bettina Bock from Wageningen University are the main authors of GRANULAR's latest report titled "Synthesis Report on the Multi-Spatial Understandings of Rural Diversity and Policy Notions Framework ". This report builds on recent theoretical thinking, which has moved away from an absolute distinction between rural and urban areas. Instead, it incorporates relative, relational and circular spatial lenses to rural (re)production and transformation processes.
Additionally, the report underlines the importance of considering the representation of rural and everyday rural lives in what produces – and changes- rural localities. A third step focuses on recognising the multitude of rural functionalities which influence the identification of rural capital assets.
Rural functionalities
The theoretical framework resulting from the GRANULAR reports puts the multiple productive, residential, environmental, and recreational functionalities of rural areas at its heart. In doing so, it underlines that the outlook of these four key functionalities is increasingly characterised by place-specific patterns of interaction and dynamics, which may result in balances, dis-balances and trade-offs.
Understanding these dynamics is pertinent for understanding processes of rural differentiation and, hence, rural diversity. As shown in Figure 1, potential disbalances range from overdependency to global or regional markets to negative environmental footprints and lack of stakeholder engagement in rural areas.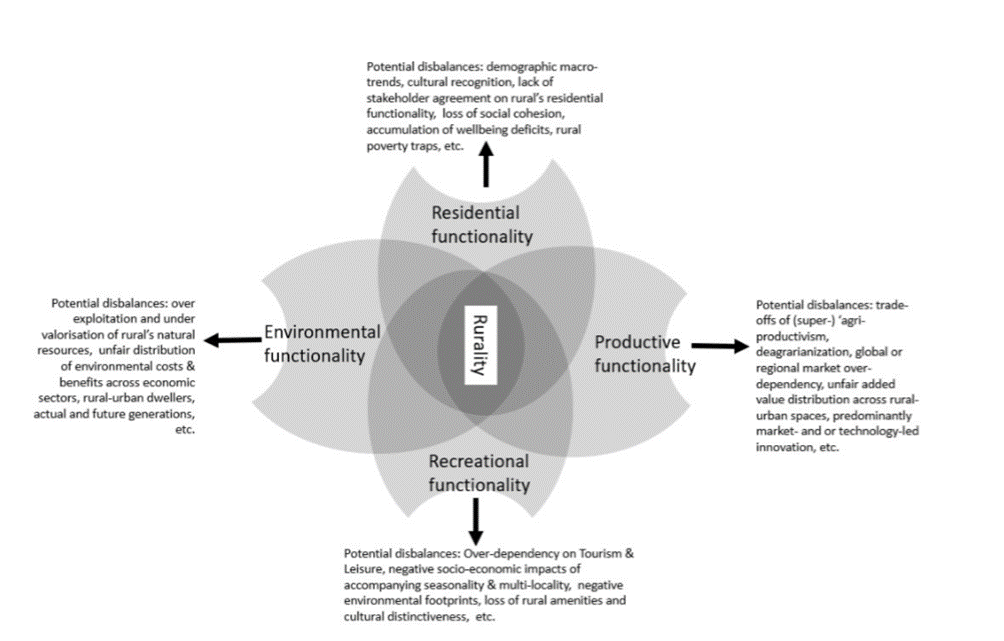 The GRANULAR Rural Diversity Compass for place-based rural policies
GRANULAR's theoretical framework aspires to contribute to place-based rural policymaking. For this reason, the report concludes with formulating a set of design principles for a prototype of the GRANULAR Rural Diversity Compass as an alternative approach to characterise ongoing rural differentiation.
The Rural Compass is a tool aimed at orientating and providing policy direction, going from policy design in rural areas to policy monitoring and evaluation. It will present an alternative to existing categorisations of rurality by providing insight into the place-specific drivers of rural diversity based on rural functionality dynamics. In doing so, it aims to support the European Commission in further elaborating current policy notions, such as rural functional areas, the EU's Long-Term Vision for Rural Areas, and rural proofing.